Having high-quality leather shoes is a great way to wear something fashionable and classic. But, if you want your footwear to remain in mint condition over time, you must take proper care of them.
This article will provide insight into the best methods for preserving your leather shoes – from cleaning products and techniques to storage suggestions – so that they look as good as new for years to come.
Whether you are looking after a pair of dress shoes or sneakers, understanding how to keep them clean and well-maintained will ensure their longevity and help maintain their original quality.
Let's explore what it takes to ensure top-notch shoe care!
Cleaning and Conditioning Leather Shoes
Caring for high-quality leather shoes is essential to ensuring that they remain in mint condition. To help protect your footwear and keep them looking their best, regular cleaning and conditioning are key steps. Start by removing any dirt or debris from the surface of the shoes using a soft cloth or brush.
Then, use a mild cleaner specifically formulated for leather to gently clean away any remaining residue without damaging the material. Once you've finished wiping down the exterior of your shoes, let them air dry in a cool place away from direct sunlight.
The next step is conditioning the leather to keep it supple and prevent cracking over time. Apply an appropriate conditioner with another soft cloth, making sure not to add too much product at once as this can leave behind a greasy finish on the outside of your shoe.
Rub it into the leather until absorbed then buff off any excess with another clean cloth before allowing them to fully dry again in a cool area out of direct sunlight. By following these simple steps you can maintain your high-quality leather shoes so that they look just as good as when you first bought them!
Protecting Leather Shoes from Water Damage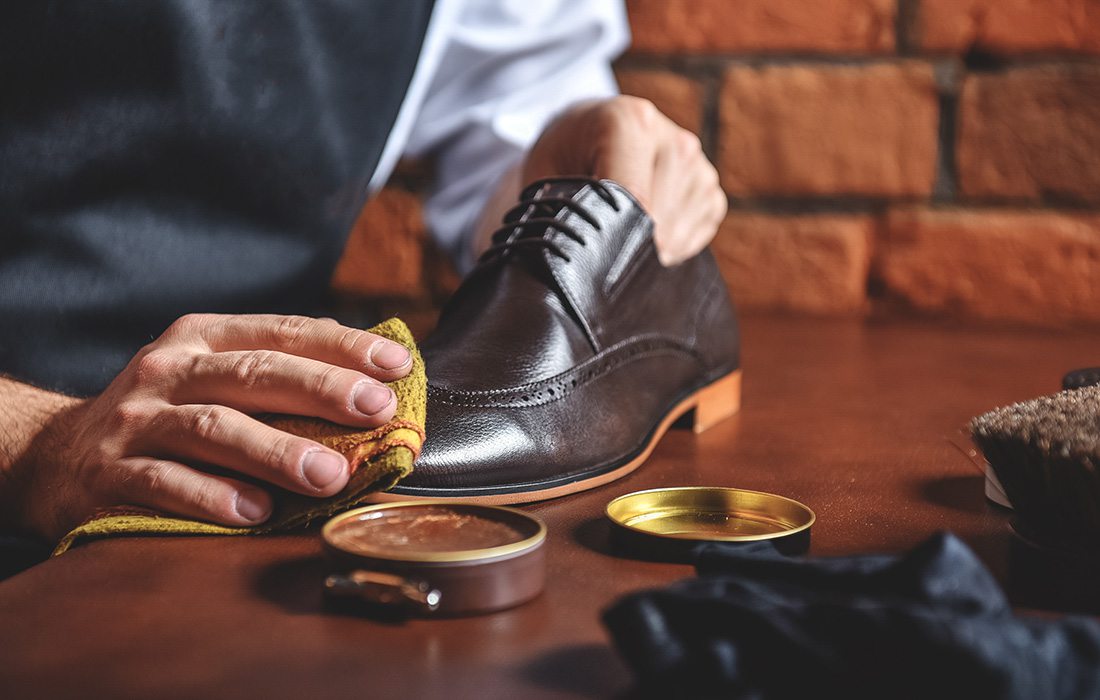 Protecting leather shoes from water damage is a must for ensuring their longevity. The first step in doing so is to apply a waterproofing product or spray which will help repel water droplets and dirt while also protecting them from salt, dust, and other materials that may cause staining or discoloration.
Additionally, when wearing your leather shoes in wet conditions such as rain or snow it's important to avoid walking through deep puddles or standing still for too long; otherwise, the moisture will be absorbed into the fabric causing irreversible damage.
Finally, using shoe trees after every wear can help maintain shape and reduce creasing of the leather shoes which can make them more vulnerable to moisture absorption over time – preventing any lasting harm caused by external factors!
Removing Stains from Leather Shoes
Removing stains from leather shoes can be a difficult task but it doesn't have to be! With the right products and techniques, you can be sure that any unsightly marks or blemishes will quickly disappear. Firstly, it is important to identify what type of stain has been left on your shoe – oil-based stains such as grease or cosmetics require dry cleaning solvents while water-soluble stains like coffee or fruit juice are more easily wiped away with a damp cloth.
If the stain persists then some rubbing alcohol may do the trick – just make sure to test it on an inconspicuous part of your shoe first in case discoloration occurs. Professional cleaners also exist who specialize in removing tough marks from leather goods; although expensive these services offer higher success rates than DIY methods.
Finally, remember that prevention is better than cure so always take steps such as using waterproofing sprays and storing them out of direct sunlight when not wearing them to keep your precious footwear looking its best for years to come!
Taking Leather Shoes to A Cobbler
When it comes to taking care of high-quality leather shoes, one of the best options is to take them to a cobbler. An experienced cobbler can help repair any damage that has been done to the shoe and make sure they are in top condition.
They also have access to specialized tools and know how best to treat different types of leather. Plus, they can often provide advice on how you should be caring for your shoes going forward.
It's important not just for aesthetic reasons but also because having well-maintained footwear will increase its lifespan significantly. Taking your shoes regularly for professional maintenance will ensure that all parts like laces, soles, and inner linings are kept in optimal shape – preventing any unnecessary wear and tear from occurring.
It's also worth noting that some materials used in luxury shoes may require special attention or cleaning products that only a trained expert would know. By entrusting a specialist with the job of preserving your footwear, you can feel confident that every step is being taken towards maintaining its quality over time.
So don't hesitate when it comes time to take those expensive leather shoes down to the local cobbler!
Conclusion
Maintaining high-quality leather shoes is essential for preserving their longevity and keeping them in mint condition. Taking the time to properly clean, polish, and care for your footwear will ensure that it lasts you for years to come.
Keeping up with regular maintenance such as polishing can help keep both shoes looking new, while also protecting against water damage or scuffs from everyday wear.
If any major repairs are needed such as stitching or sole replacements, a shoe repair near me can help bring life back into old pairs of footwear. With these tips on taking proper care of leather shoes, you will be sure to enjoy your favorite pair of kicks for many years ahead!